The internet is full of high-end aspirational hotel redemptions. From an overwater villa in the Maldives to a chic Parisian loft, these drool-worthy properties almost always have one thing in common: no room for families.
So what do you when a journey includes mom, dad, the kids and a friend or two? Find a hotel that allows you to book two-bedroom suites with points. It's especially easy in the U.S., where such properties can be more common than overseas.
What hotels have two-bedroom suites that you can book with points? Stick with the following brands.
The best hotel chains with two-bedroom suites
It can be difficult to figure out which hotel chains offer suites, let alone allow you to book them with points. This is heavily dependent not just on the chain, but also on the brand, as different brands offer different amenities. The JW Marriott, for example, is known for high-end luxury rooms, and suites will be marketed and priced accordingly. Other brands, such as Residence Inn by Marriott, provide accommodations to long-term travelers, which means suites will be much easier to find.
The good news is that most popular chains will have at least one hotel with multiple-room suites. The bad news is that a lot of the time they'll cost more — and sometimes significantly more — than a regular room. But there are some gems to be found if you're willing to look.
Hilton
Hilton doesn't operate a fixed award chart — instead, the cost of reward nights fluctuates according to demand. It offers standard room redemptions and premium room rewards. You likely won't find any Hilton hotels with multiple room suites that offer a standard room redemption, but sometimes the prices you find won't be overly exorbitant.
Hilton's extended stay options, such as Homewood Suites and Home2 Suites, are both more likely to offer hotels with bedroom suites.

Hilton's timeshare brand, Hilton Grand Vacations, is a resort-like option that spans the globe. These properties have single rooms, but also focus on larger spaces to accommodate families.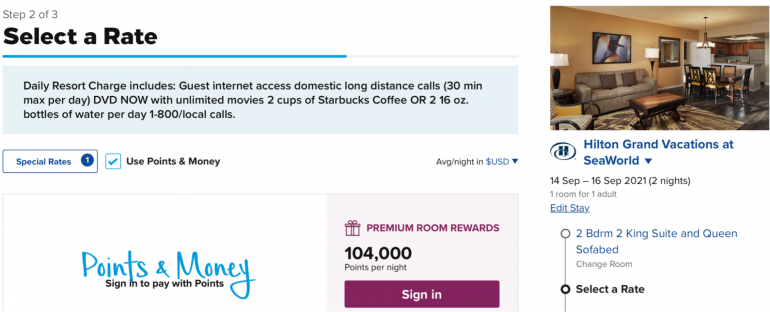 Again, you'll need to pay the premium room reward rate, but with units up to three bedrooms in size, you can squeeze in several people.
Hyatt
Hyatt doesn't have any brands that reliably offer hotels with two room suites, but it is possible to find some properties that feature larger spaces.
With Hyatt, look for extended-stay properties; in this case, Hyatt House will be the best option for a reservation. Hyatt operates on a fixed price award chart for redemptions, and a suite will likely be considered a "standard suite free night."

These properties aren't available everywhere — you'll have to search Hyatt's site to find the hotels you could book in your destination.
Marriott
Marriott has a robust timeshare system that offers condo-like resort hotels, similar to Hilton, that you can book with points. The list of Marriott Vacation Club hotels is extensive and features properties all over the world, many of which include expansive grounds that feature hotels with two room suites.

Hotels like the Phoenician Residences, a Luxury Collection Residence Club, Scottsdale and Marriott's Grande Vista can be booked with Marriott Bonvoy points.
You can also try checking out Residence Inn properties, which have two-bedroom suites but a lot of the time these are available to book with points — only cash.
Choice
Choice Hotels is less famous than its peers in the points and miles community, but there is a lot to love about this rewards program. Unlike other chains, Choice charges a single rewards rate, regardless if you're booking the cheapest or most expensive room.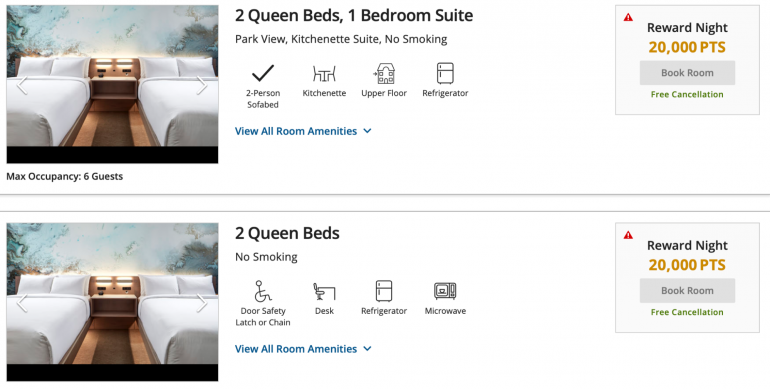 Not all rooms are available to book with points, but there's a decent selection for midrange hotels, especially with the Comfort Suites brand.
Wyndham
Wyndham is another undervalued program. While it may not have some of the ultra-enviable properties that Hyatt, Hilton and Marriott do, it charges reasonable rates, which vary from 7,500 to 30,000 points per bedroom each night.

Possible award stays can be found at hotels like Utah's Park Plaza Resort Park City a Ramada by Wyndham and the Club Wyndham Park City.
How to find and book hotels with multiple room suites
It can be difficult to find hotels to book with points, especially if you're traveling in a large group and need bedroom  suites. While it's not always a guarantee, Hilton, Hyatt, Marriott, Choice and Wyndham hotels all offer varying ways of booking larger-size rooms.
With a little flexibility and the right points, you and your travel group can stay together in one of these expansive rooms.
How to Maximize Your Rewards